Preconditions / Voraussetzungen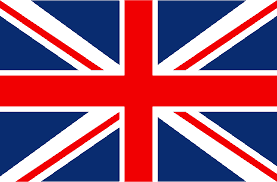 The tutorial will show you how to mix audio files without "MIR & Co.". You will learn to take the more elaborate route. The reward of the effort will be that each mix sounds a bit (more interesting) different and, above all, that you are absolutely free in your decisions on how it all should sound.
I congratulate you on this decision!

Reading the tutorial, you'll learn a lot about audio effects: how to use them, when to use them, what the effects do, what bugs they can produce, and so on. You will learn how to properly route the mixer, how to mix the instrument groups and how to finally combine everything in the sum channel. Finally, there is a larger chapter on "mastering". Orchestral music is not really about increasing the volume. There are other things important ...

The tutorial is ideal for beginners to advanced.
As a beginner I would study chapter by chapter.
Advanced students are welcome to select specific chapters.

To work with the tutorial, you should have the following soft- and hardware:
---
---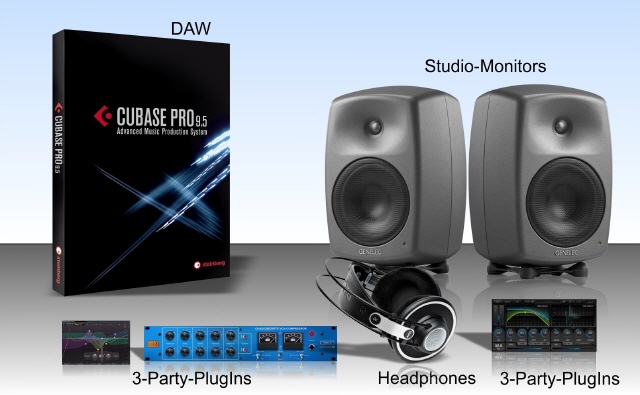 Good Conditions are...
- DAW*
- One really good third-party plug-in (Reverb, EQ, Compressor)
- good headphones
- near-field studio monitors "middle class" (~ 1200 € / pair)
---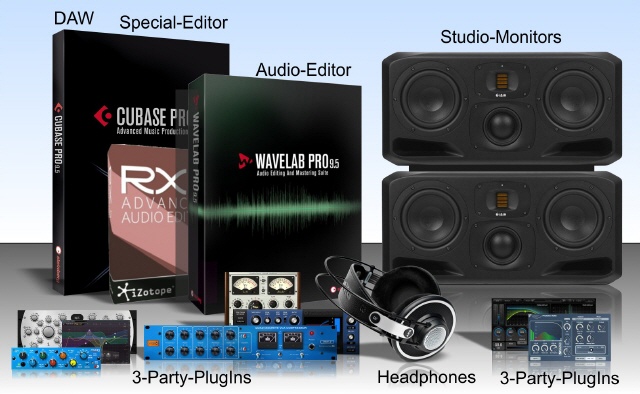 Excellent conditions are...
- DAW*
- Audio editor software (Wavelab, Adobe Audition, Sound Forge,...)
- Audio Repair-Tools (iZotope RX,...)
- a few Third-party PlugIns (Reverbs, EQs, Compressors, Specials)
- Good Headphones
- Near-Field Ftudio Monitors "high end" up from 2000 € / pair
- good listening conditions (room optimizations)
---
You can start well with the minimum.
In the tutorial, you will be advised on what to look for when buying certain components.
* Unfortunately, only the largest DAW versions have good audio plug-ins and, above all, a complete set: a really good EQ, a good reverb (algo and convolution) etc. So if you want to mix audio, you should rather use the best DAW Buy version. If you put the price on the amount of additional audio effects received, the extra charge is absolutely justified. Fortunately, Logic only has a "big" version.
---
If you are a beginner, you should be patient.
Successful mixing is an art (a matter of skill).

If you are already advanced, you will see with the tasks set, where your limits are
and then learn together with the solutions at the points where you had previously been different.

Das Tutorial zeigt Ihnen, wie Sie Audiodateien ohne "MIR & Co." mischen können. Sie werden lernen, den etwas aufwändigeren Weg zu gehen. Der Lohn der Anstrengung wird sein, dass jeder Mix ein bisschen anders (interessanter) klingt und vor allem, dass Sie absolut frei sind, in Ihren Entscheidungen, wie alles klingen soll. Ich gratuliere Ihnen zu dieser Entscheidung!

Wenn Sie das Tutorial lesen, werden Sie eine Menge über Audioeffekte lernen: wie Sie sie verwenden, wann Sie sie verwenden, was die Effekte tun, welche Fehler sie produzieren können und so weiter. Sie werden lernen, wie Sie den Mixer richtig routen, wie Sie die Instrumentengruppen mischen und wie Sie zum Schluss alles im Summenkanal kombinieren. Schliesslich gibt es ein grösseres Kapitel über das "Mastern". Bei Orchestermusik geht es ja nicht hauptsächlich darum, die Lautstärke zu erhöhen. Da sind andere Dinge wichtig...

Das Tutorial ist für Anfänger bis Fortgeschrittene ideal.
Als Beginner würde ich Kapitel für Kapitel der Reihe nach studieren.
Fortgeschrittene können gerne spezifisch Kapitel auswählen.

Um mit dem Tutorial arbeiten zu können, sollten Sie die folgende Software und Hardware haben:
---
---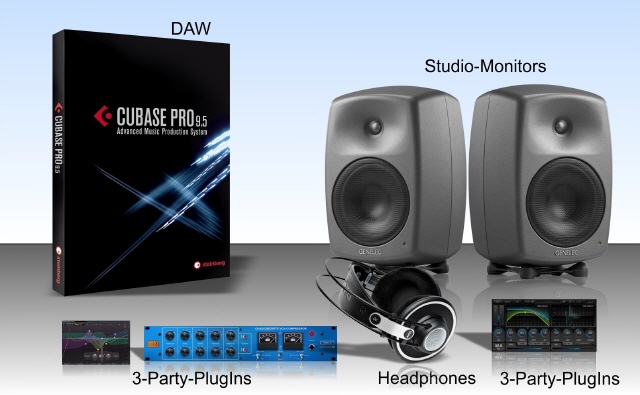 Gute Bedingungen
- DAW *
- je ein wirklich gutes Plug-In von Drittanbietern (Reverb, EQ, Kompressor)
- Gute Kopfhörer
- Nahfeld-Studio-Monitore "Mittelklasse" (~ 1200 € / Paar)
---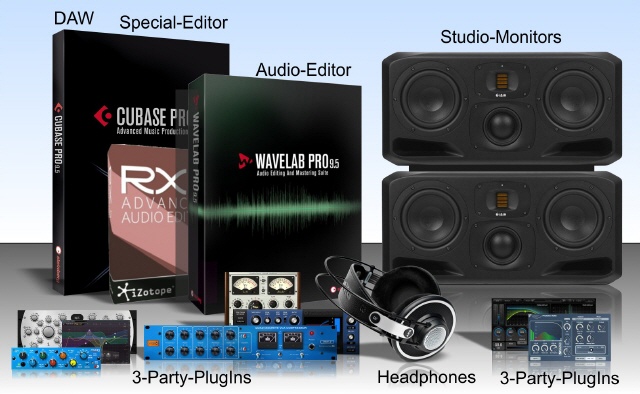 Ausgezeichnete Bedingungen
- DAW *
- Audio-Editor-Software (Wavelab, Adobe Audition, Sound Forge, ...)
- Audio Reparatur-Tools (iZotope RX, ...)
- ein paar Plugins von Drittanbietern (Reverbs, EQs, Kompressoren, Specials)
- Gute Kopfhörer
- Nahfeld Studio Monitore "High End" ab 2000 € / Paar
- gute Abhörbedingungen (Raumoptimierungen)
---
Man kann gut mit dem Minimum starten.
Im Tutorial werden Sie beraten, worauf man achten soll beim Kauf gewisser Komponenten.
* Leider haben nur die grössten DAW-Versionen gute Audio-Plug-Ins und vor allem ein komplettes Set: einen wirklich guten EQ, einen guten Reverb (Algo und Convolution) usw. Wer also Audio mischen möchte, sollte deshalb eher die beste DAW-Version kaufen. Wenn man den Preis auf die Menge der erhaltenen zusätzlichen Audio-Effekte umlegt, ist der Mehrpreis absolut gerechtfertigt. Glücklicherweise hat Logic nur eine "grosse" Version.
---
Wenn Sie ein Anfänger sind,
sollten Sie geduldig sein. Erfolgreiches Mischen ist eine Kunst (von können).

Wenn Sie bereits Fortgeschrittener sind,
werden Sie mit den angebotenen Aufgaben sehen, wo Ihre Grenzen sind. Zusammen mit den Lösungen können Sie an jenen Stellen lernen, wo Sie selbst noch keine brauchbare Lösung fanden.